Rising art star
Vito Bonanno
is a nationally recognized artist with autism spreading the word through his art that autism is a creative and magical gift. Bonanno is best known for his unique storyboard, grid-like artwork filled with colorful characters, objects and ideas that act and interact in striking ways. He is considered an outsider artist whose work is highly coveted by collectors and art aficionados worldwide. His style is edgy with a graffiti-esque, urban vibe. Bonanno's art has been exhibited in countless art exhibitions and shows, and he has participated in a myriad of art competitions and contests.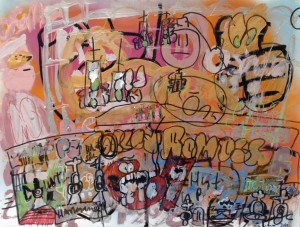 Bonanno was diagnosed with PDD/Autism just before his 4th birthday. Language delayed, his parents and teachers developed strategies that tapped into his high visual acuity, utilizing storyboard styles to relay academic and social information to Vito. He was also encouraged to draw in storyboard format to express his feelings. The storyboard grid remains prominent in his work today and is a poignant reminder of a boy who was trapped in his mind, but through the tireless work of professionals and undaunting support of his family, has been given the opportunity to develop into a highly functioning, young man who has learned to take the information trapped in his head and transform it into art that contains the essence of his life, feelings, thoughts and dreams.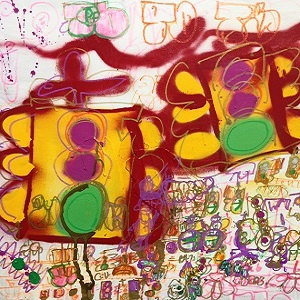 He remembers it was his dreams that motivated him to draw. "My disability helps me remember things like my dreams, but it also doesn't let me forget - so both good and unpleasant things remain in my head always and I have to live everyday with all that stuff in my head," explains Bonanno. "Some of it I will end up obsessing about, so drawing these things helps me get this stuff out of my head for a while."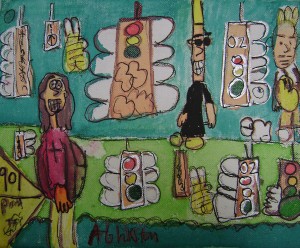 "Vito Bonanno's art contains the essence of his life, feelings, thoughts and dreams, coupled around objects or topics that 'get stuck in his head', including traffic lights, grids, ceiling fans and graffiti. His work is image and concept driven and may incorporate any media which will fuel this expression. Using spray paints, gouache, India inks, oils, acrylics and so on, he works on paper, canvas, or whatever support may suit. Most of the characters or topics he draws are important to his life and embedded in his personal philosophy. His work has been described as raw, unfiltered, unedited, truthful, comedic, irresistible, bold, playful and charming, much like the man himself. He has found a way to tap into the intensity of focus and insight afforded him through Autism Spectrum Disorder to unleash a formidable creative power and vision." - Elizabeth Peterson, Director of
Akus Gallery
at Eastern Connecticut State University.